Michael's 4th CD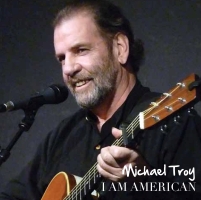 I Am American
Price:
15.00
Release:
2015
Credits
Produced by: Michael Troy
Published by: Troy Town Songs (BMI)
Recorded by: Steve Friedman at Melville Park Studio, Boston, MA
Track 4 & 5 recorded by: Pete Belanger at the Narrow's Center for the Arts, Fall River, MA
All Tracks mixed and mastered by: Mike Laureanno, Sunset Studio, Providence, RI

---
---
CD Liner Notes
Michael Troy was born and raised in the rough-and-tumble mill town of Fall River, Mass. In many ways, his life reflects the lives of the hard-working common folk who populate this part of New England. Having spent parts of his own life as a mill worker, fisherman, laborer and carpenter, and most of his adult years as a husband and father, Michael has traveled many paths, and the experience and wisdom he's gleaned along the way echoes through his music.
A magical storyteller with a gift for melody, a deep richvoice, excellent finger-pickin' skills and the ability to compose outstanding stanzas of substance, Michael's plaintive ballads speak of the hills and mills of Fall River and of childhood dreams not quite forgotten in the adult quest to make an honest living. But Michael is honest when he says he's playing for himself, for the sheer joy of creating music to call his own. "I have no plan," he says. "I'm not trying to write in any style or sound like someone else. I write from gut feeling. I let the emotion drive the music, not the music drive the emotions."
In 1998, as Michael puts it, he moved "from the road of least resistance, to the road one chooses". The CD he released that year, Whispers in the Wind, is like a vivid, painted picture - the artist's conception of a life experience, illustrated solely by the tools of voice and guitar. There's no fancy production here, no drums, keyboards, sidemen, not even liner notes - just the simple, eloquent, touching words and melodies of a humble, quiet man from a town that has seen its share of historic ups and downs.
Michael has won many awards for his music winning the 2004 Boston Folk Festival Songwriter's Contest, the Founders Title Folk and Bluegrass Festival Songwriter's Contest also in 2004, the South Florida Folk Festival Songwriter's Contest in 2005, the 2006 Wildflower Folk Festival Songwriter's Contest, the 2007 New England Songwriting Contest and the 2010 Kerrville New Folk Songwriting Contest.

---
CD Purchase
To purchase I Am American please go to CD Baby.