Michael's 3rd CD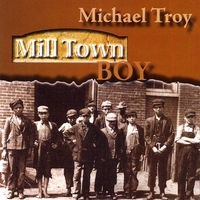 Mill Town Boy
Price:
15.00
Release:
2009
Credits
Produced by: Michael Troy
Recorded and mixed by: Steve Friedman at Melville Park Studio, Boston, MA
Mastered by: Mark Donahue at Soundmirror, Boston, MA

---
---
CD Liner Notes
"You believe every word of it, every line of every song. That's because Michael has seen it, done it, and been it. His songs are about real people who have real lives. People who work and love and triumph over the everyday obstacles that we all face, and sometimes fail. He writes of the people that populate the seacoast of his native Massachusetts but are they that different from the people that you know? And as soon as you've heard the songs don't you feel like you've known them all your life?
Michael is a rare observer who can condense a story into a few simple verses. He is a rare writer who creates poetry that sounds like speech. It seems to be just the way people talk, only better. Michael is also a rare composer who writes melodies that sound like the people whose stories they carry.
In ancient days Michael might have been called a bard, but rather than telling tales of epic battles he chooses to tell the stories of people whose battles are smaller but, in their own way, just as epic. As you listen to Michael's songs you come to know these folks and you come to like them. As you listen to his songs you'll also come to know Michael, you'll like him too, and believe him, every line of every song."
Dave Palmater
WUMB Public Radio Network
www.wumb.org
---
CD Purchase
To purchase Mill Town Boy please go to CD Baby.