Michael's 2nd CD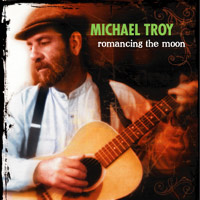 Romancing The Moon
Price:
15.00
Release:
2004
Credits
Produced by: Eric Saulnier and Tom Duval
Lead vocals & acoustic guitar recorded and engineered by: Jimmy Dorr,
Jimmy Dorr Studios, Boston, MA
Mixed by: Dan McLoughlin at Revolver, Thousand Oaks, CA and Woolley Mammoth, Boston, MA
Assistant Engineered by: Anthony Lemieux
Mastered at: Specialized Mastering, Framingham, MA

---
---
CD Liner Notes
You really ought to get to know Michael Troy. Actually, you're about to. These songs aren't exactly about Michael Troy, but they are about who he is: An adept picker. An astute observer. An acute emotional antenna.
If you really want to know Michael Troy, it might help to understand that Troy is a 19th century name for Fall River, Massachusetts, where Michael was born, raised, schooled and wed. He's had one wife, four daughters and a grandchild. For decades making the rent came before making music. Then in 1998 while undergoing treatment for lymphoma, Michael came into his own as a songwriter. Before that he'd been a textile worker in the sweat shops of Fall River, a laborer in Simi Valley, a fisherman out of Narragansett Bay and a floor finisher.
The names of Michael's employers seem quaint and picturesque, rooted in an industrial culture born a century before he was: the Stella Ann Frocks dress factory, The Ellie B clamboat that sunk in January of 1999, a truss yard in California. The waves of 20th century urban decay and 21st century cultural renaissance have washed over Michael's experiences and folk balladry. His life and his songs are saturated with history, social issues, and workingmen's philosophies along with the lessons of patience, tolerance and beauty that survival teaches. For one whose songs are so jam packed with imagery, allusion and poetry, Michael Troy is a rather shy guy, not too chatty. Though he admits to being a spiritual person, he's hard put to explain his songs. "I dunno. It's just in there."
Is "Ricky the Kid" about social conditions that leave young punks adrift and all of us in need of forgiveness? Michael says, "It's just about a kid, and maybe about how I feel about what happened to him."
Is "Jacinta's Song" a prayer of thanks for second chances? Does reflect having survived a bout with cancer? Michael begs, "Please, don't ask me to try to say all that."
Is "Love Song" really just a simple love song to his wife of more than twenty years? "Oh, yes," he declares.
Is Romancing the Moon a collection of some of the sweetest, toughest, most poignant, most insightful songs you'll hear? Oh, yes.
Settle in, won't you? Listen. Then find out where this guy is playing in your town, because you really ought to get to know Michael Troy.
Marilyn Rea Beyer
WUMB Public Radio Network
www.wumb.org
---
CD Purchase
To purchase Romancing the Moon please go to CD Baby.